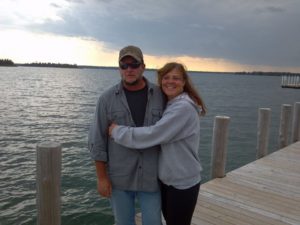 The Les Cheneaux Islands is an archipelago of 36 islands on the Northern shore of Lake Huron, in Michigans Upper Peninsula.  It is an area of small quaint villages, boat houses, fishing, hiking, birdwatching, sailing, kayaking, and all the traditional summer vacation pastimes we have loved since we were kids.  An area seemingly untouched by time, a world away from the hustle and bustle of the "real world".
Islands Vacation Rentals is dedicated to providing quality rentals near the towns of Hessel and Cedarville, in the heart of the "LCI's".  We vacationed here for decades before moving here, and now we love nothing more than helping others find their "special place" in our islands.  We can get you in a rental that fits your needs, whether its a guys fishing vacation, a summer vacation for your family, or a family reunion that requires 10+ cottages.
Email or call us today to check availability!
Tom and Kathie Frontjes
Islands Vacation Rentals